News
Label & Flexible Packaging & Film Expo China
Shanghai Lanjing Exhibition Service Co.,Ltd
Show Add: No.2345 Longyang Road, Pudong New District, Shanghai, China
MS Tracy Zhou
Tel: 86 18898692801
Email: grand.fa@grahw.com
Ms Cathy Song
Tel:+86-21-6917 0023
E-mail:

cathy

@lanjingexpo.com
E-mail:jerry@lanjingexpo.com
HP Indigo to present GEM technology
Date:2017-07-15 09:07:18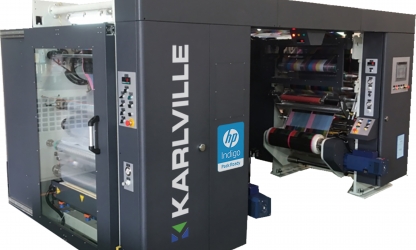 HP Indigo is to present GEM at Labelexpo Europe 2017, its rebranded combination process featuring digital print and embellishment technology developed with JetFX.
GEM, introduced through a technology demonstration at drupa 2016 as the HP Indigo WS6800 Digital Combination Printing concept, enables the application of fully digital graphic embellishments in one pass, and is said to streamline production of digital spot and tactile varnishes, special effects, digital foils and more.
Other digital printing equipment and technologies show by HP Indigo at Labelexpo Europe 2017 include the 8000 and 20000 digital presses, and the Pack Ready ecosystem, including its latest lamination and coating developments.