News
Label & Flexible Packaging & Film Expo China
Shanghai Lanjing Exhibition Service Co.,Ltd
Show Add: No.2345 Longyang Road, Pudong New District, Shanghai, China
MS Tracy Zhou
Tel: 86 18898692801
Email: grand.fa@grahw.com
Ms Cathy Song
Tel:+86-21-6917 0023
E-mail:

cathy

@lanjingexpo.com
E-mail:jerry@lanjingexpo.com
Monotech Systems installs first Colornovo
Date:2017-07-15 09:07:08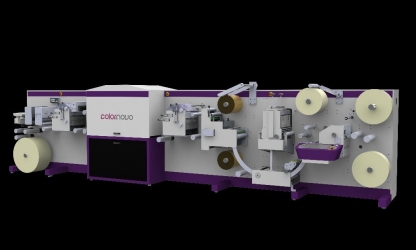 Indian press manufacturer and trader Monotech Systems has made the first installation of Colornovo, its full color UV inkjet system, in Shanghai, China, on a converting and finishing line designed by the team in-house.
Jimit Mittal, vice president, Inkjet Products and Solutions, said: 'ColorNovo will bridge the gap between end users and the label printers enabling them to print on demand. This press can print short runs, variable data, personalized labels and security features onto various substrates.' ColorNovo uses drop-on-demand inkjet printhead technology that prints labels at 600 DPI. It runs at a speed of upto 70m/min on web width of up to 330mm.
The press consists of ColorNovo CMYK + white inkjet module with in-line corona, web cleaner, two registered servo flexo units, cold foil, a laminating station, die-cutting, slitting and dual rewind system.
'This machine is at par with any international technology in terms of quality. We are looking at taking this press to the global market. While one is running successfully in Shanghai, the next will be installed at a leading label manufacturer and supplier in India soon,' Mittal added.
The Jetsci inkjet business at Monotech Systems has started looking at exports seriously this year. In the last six months, this division exported products to China, Middle East, Turkey, Africa and ASEAN region through its channel partners. 'The sales force in each region is trained to sell and service these machines,' Mittal said.
Talking of inkjet technology, he said: 'It is profitable to print using inkjet technology till the run length of 2,000 linear meters. Many jobs runs at most Indian label printers are less than this length. Adding a digital label printing press requires medium to high capital expenditure. It is, therefore, most important for label printers to select the right technology.'
The Jetsci range of inkjet products also includes VSRI (variable data printing with slitter rewinder and inspection), track and trace, and other customized variable data printing hybrid products for label and security printing industry. The Jetsci Inkjet business at Monotech Systems shifted its office and manufacturing from Delhi in June 2017 to a larger space in Gurgaon.